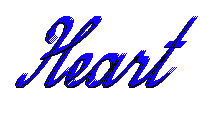 Proverbs 23:7a - For as he thinketh in his heart, so is he: . . .
The heart represents the innermost part of the mind of man. It is the center of the thoughts and emotions. What a man thinks about and centers his thoughts on determines what that man is and will become.
Proverbs 19:21
There are many devices in a man's heart; nevertheless the counsel of the Lord, that shall stand.

There are many things that we can set our hearts upon and we are always free to choose that which will be the focus of our heart. Yet only God and His counsel will ultimately stand. Put God's Word in your heart and He will direct your steps. However, choose to focus your heart on yourself or the things of the world and you will ultimately fall. There are really only two choices: God or NOT God.
Mark 12:29-30
And Jesus answered him, The first of all the commandments is, Hear, O Israel; the Lord our God is one Lord:
And thou shalt love the Lord thy God with all thy heart, and with all thy soul, and with all thy mind, and with all thy strength: this is the first commandment.
Psalm 14:1
The fool hath said in his heart, There is no God. . .
God's commandment was and is to love God with all of our heart. We can choose to center the thoughts of our heart on God and His Word or we can choose to center our heart on something other than God. We center our heart on God by putting His Word in our heart.
Psalm 119:11
Thy word have I hid in mine heart, that I might not sin against thee.
Psalm 66:18
If I regard iniquity in my heart, the Lord will not hear me:
There are always two choices. God or Yourself
Psalm 27:8
When thou saidst, Seek ye my face; my heart said unto thee, Thy face, Lord, will I seek.
Proverbs 3:5
Trust in the Lord with all thine heart; and lean not unto thine own understanding.
Psalm 40:8
I delight to do thy will, O my God: yea, thy law is within my heart.
----------------------------------
Proverbs 18:2
A fool hath no delight in understanding, but that his heart may discover itself.
Proverbs 19:3
The foolishness of man perverteth his way: and his heart fretteth against the Lord.
Proverbs 28:26
He that trusteth in his own heart is a fool: but whoso walketh wisely, he shall be delivered.

Ecclesiastes 10:2
A wise man's heart is at his right hand; but a fool's heart at his left.
In the Bible the right hand is the hand of blessing and the left hand is the hand of cursing. The person who places God's Word in his heart is blessed of God. The person who spends his time thinking about himself is a fool. "Know thyself" is a foolish philosophy. To "Know God" and keep His Word is the only way to be blessed by God.
Psalm 119:2
Blessed are they that keep his testimonies, and that seek him with the whole heart.
II Chronicles 16:9a
For the eyes of the Lord run to and fro throughout the whole earth, to shew himself strong in the behalf of them whose heart is perfect toward him.

God is continually looking on the heart of man in order to show Himself strong on man's behalf. God is not looking to find fault or to blame. But, God is only able to bless and guide those who seek Him with their heart.

---
David
Acts 13:22
And when he had removed him [Saul the son of Cis], he raised up unto them David to be their king; to whom also he gave testimony, and said, I have found David the son of Jesse, a man after mine own heart, which shall fulfil all my will.
God found David to be a man after His own heart. David always brought his thoughts back to God and His Word and kept his heart fixed upon the Lord God. Most of the Psalms were written by David and they express the great focus of his heart:
Psalm 40:8 I delight to do thy will, O my God: yea, thy law is within my heart.
Psalm 57:7 My heart is fixed, O God, my heart is fixed: I will sing and give praise.
Psalm 108:1 O God, my heart is fixed; I will sing and give praise, even with my glory.
Psalm 119:10 With my whole heart have I sought thee: O let me not wander from thy commandments.
Psalm 119:11 Thy word have I hid in mine heart, that I might not sin against thee.
Psalm 119:34 Give me understanding, and I shall keep thy law; yea, I shall observe it with my whole heart.
Psalm 119:36 Incline my heart unto thy testimonies, and not to covetousness.
Psalm 119:80 Let my heart be sound in thy statutes; that I be not ashamed.
Psalm 119:112 I have inclined mine heart to perform thy statutes alway, even unto the end.
Psalm 119:161b . . . my heart standeth in awe of thy word.
David trusted God and His Word with his whole heart. When he passed rulership of the kingdom on to his son Solomon, his prayer was that God's people would keep their hearts in the Word and especially that his son Solomon also would be a man after God's own heart:
I Chronicles 29:17-19
I know also, my God, that thou triest the heart, and hast pleasure in uprightness. As for me, in the uprightness of mine heart I have willingly offered all these things: and now have I seen with joy thy people, which are present here, to offer willingly unto thee.
O Lord God of Abraham, Isaac, and of Israel, our fathers, keep this for ever in the imagination of the thoughts of the heart of thy people and prepare their heart unto thee:
And give unto Solomon my son a perfect heart, to keep thy commandments, thy testimonies, and thy statutes, and to do all these things and to build the palace, for the which I have made provision.

---
Solomon
II Chronicles 1:7-12
In that night did God appear unto Solomon, and said unto him, Ask what I shall give thee.
And Solomon said unto God, Thou hast shewed great mercy unto David my father, and hast made me to reign in his stead.
Now, O Lord God, let thy promise unto David my father be established: for thou hast made me king over a people like the dust of the earth in multitude.
Give me now wisdom and knowledge, that I may go out and come in before this people: for who can judge this thy people, that is so great?
And God said to Solomon, Because this was in thine heart, and thou hast not asked riches, wealth, or honour, nor the life of thine enemies, neither yet hast asked long life; but hast asked wisdom and knowledge for thyself, that thou mayest judge my people, over whom I have made thee king:
Wisdom and knowledge is granted unto thee; and I will give thee riches, and wealth, and honour, such as none of the kings have had that have been before thee, neither shall there any after thee have the like.
Solomon began as David had, with a heart yearning to know what God wanted him to do. As a result God blessed him and he prospered and finished the Temple that God had told David to have him build.
I Kings 9:4-7
And if thou wilt walk before me, as David thy father walked, in integrity of heart, and in uprightness, to do according to all that I have commanded thee, and wilt keep my statutes and my judgments:
Then I will establish the throne of thy kingdom upon Israel for ever, as I promised to David thy father, saying, There shall not fail thee a man upon the throne of Israel.
But if ye shall at all turn from following me, ye or your children, and will not keep my commandments and my statutes which I have set before you, but go and serve other gods, and worship them:
Then will I cut off Israel out of the land which I have given them; and this house, which I have hallowed for my name, will I cast out of my sight; and Israel shall be a proverb and a byword among all people:
Just as we do, Solomon had two choices. He could continue to focus the thoughts of his heart upon God and His Word - or he could choose to follow something else. Although he set his heart upon the wisdom of God for many years, as you will see, he ultimately chose to follow other gods.
I Kings 10:24
And all the earth sought to Solomon, to hear his wisdom, which God had put in his heart.
I Kings 11:1-2
But king Solomon loved many strange [unbelieving] women, together with the daughter of Pharaoh, women of the Moabites, Ammonites, Edomites, Zidonians, and Hittites;
Of the nations concerning which the Lord said unto the children of Israel, Ye shall not go in to them, neither shall they come in unto you: for surely they will turn away your heart after their gods: Solomon clave unto these in love.
Solomon knew God's Word. He knew that his actions, contrary to God's Word, would result in his heart being turned from God. (Ecclesiastes 7:25-26) Yet this was his choice.
I Kings 11:4-9
For it came to pass, when Solomon was old, that his wives turned away his heart after other gods: and his heart was not perfect with the Lord his God, as was the heart of David his father.
For Solomon went after Ashtoreth the goddess of the Zidonians, and after Milcom the abomination of the Ammonites.
And Solomon did evil in the sight of the Lord, and went not fully after the Lord, as did David his father.
Then did Solomon build an high place for Chemosh, the abomination of Moab, in the hill that is before Jerusalem, and for Molech, the abomination of the children of Ammon.
And likewise did he for all his strange wives, which burnt incense and sacrificed unto their gods.
And the Lord was angry with Solomon, because his heart was turned from the Lord God of Israel, which had appeared unto him twice.
We must set our heart upon God day by day and hour by hour. God's Word tells us the results of our choice before we choose. But, what we think and where we go is our decision. Do not focus your heart upon the error of Solomon but rather look at some of the wisdom that God put in his heart and walk as did David his father:
Proverbs 3:1 My son, forget not my law; but let thine heart keep my commandments:
Proverbs 4:4 He taught me also, and said unto me, Let thine heart retain my words: keep my commandments, and live.
Proverbs 4:21 Let them not depart from thine eyes; keep them in the midst of thine heart.
Proverbs 4:23 Keep thy heart with all diligence; for out of it are the issues of life.
---
March, 1998 - Updated February 2007

URL http://www.cortright.org/heart.htm
Michael Cortright